Condenser Over GLR
This is a general purpose batch reaction distillation unit to be operated at atmospheric pressure, or vacuum.
Vapours from the GL Reactor rise through the column and enter to condensers.
Condensate then is either refluxed back or collected into a container or receiver.
The unit is complete with adaptor plate, bellow, column, pipe line, coil condensers, vent, reflux line and drain valve.
A receiver with drain valve can be added optionally. Refer selection chart for different options available for couplings, structure, receiver vessels etc.
The unit is available for GL Reactors 63Ltr. to 3000Ltr.
Glass Assembly for bigger capacity GLRs can be designed on request.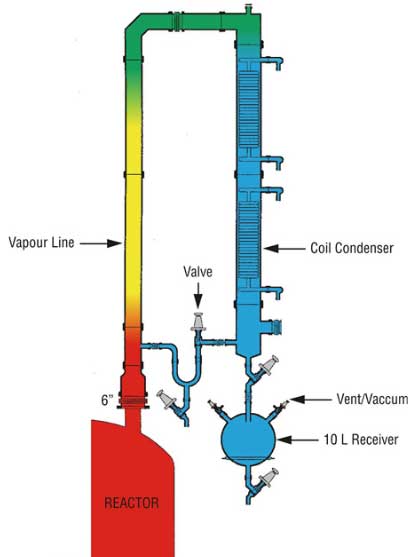 | | | | |
| --- | --- | --- | --- |
| Unit Cat.Ref. | Reactor capacity | Vapour Column | Condenser HTA M² |
| GRU250 | 250 L | 80mm x 1.5m | 1.5x2 |
| GRU500 | 500 L | 100mm x 2m | 1.5x2 |
| GRU1000 | 1000 L | 100mm x 2m | 2.5x2 |
| GRU2000 | 2000 L | 150mm x 3m | 2.5x3 |
| GRU3000 | 3000 L | 150mm x 3m | 4.0x2 |